About Spectrum
Spectrum Audio Visual is a leading AV system integrator in the region, with core expertise in Design and Build for Professional Audio Visual Solutions for Multinational Corporations, Government, Education, Entertainment and Houses of Worship. Established in 1999, Spectrum Audio Visual is headquartered in Singapore with offices in Asia to cater to our global clients today. We are pleased to represent many top renowned manufacturers namely Cisco, Crestron, D&B, Electro-Voice, Epson, Extron, Logitech, Meyer Sound, Panasonic, Polycom, Samsung, Sennheiser, Yamaha and many more to provide a wide spectrum of solutions to our clients, including state-of-the-art visual conferencing tools, engaging interactive displays, eyecatching digital signage and live video streaming solutions, amongst others. Out of over 60 staff strength, our Engineering Division comprises more than 45 technical staff. Our team of highly-experienced Certified Audio Visual and Unified Conferencing Specialists possesses deep technical skills and knowledge to deliver tailored design and implementation solutions for projects of any scale and complexity. They are also able to provide excellent after-sales care and support services. At Spectrum, a commitment to service quality is ingrained in our DNA. We strive to deliver reliable, prompt and professional solutions and services to our customers.
Our Vision & Mission
Vision

Our vision is to become an industry leader in the Design and Build of professional Audio Visual Solutions in the Asia-Pacific region. We aspire to help our clients realize their business objectives by offering innovative solutions and state-of-the-art technology.

Mission

Our mission is to delight our customers with quality service and technical excellence. We strive to deliver the highest levels of quality by providing Prompt, Professional and Reliable services. We are committed to promoting a collaborative environment to create mutually beneficial relationships with our customers and business partners.
Corporate Culture
At Spectrum, we believe that human capital is vital to the success of our company. Creating a cohesive and motivating working environment for our employees is one of our core corporate responsibilities.
We invest heavily in people development and talent management. By implementing on-the-job and structured staff training, we equip our team of professionals with the required skills, tools and knowledge to perform well. We believe that when our employees are engaged with the company and aligned with our shared vision of success, they will be more motivated to serve our customers with excellence. Ultimately, this creates maximum value for our customers.
To achieve our vision, we strongly believe that P2R has to be embedded into our corporate culture. This forms the bedrock for our relationships with our customers, suppliers, business partners, employees and stakeholders.
Certifications
Safety & Quality Assurance
At Spectrum, we are dedicated to achieving the highest quality standards and operational excellence by aligning ourselves with industry best practices and making continuous improvement.
Environment and Occupational Safety – bizSAFE Star
We have achieved a bizSAFE Star, the highest qualification awarded by Work Safety and Health Council under Ministry of Manpower (MOM) in recognition of our commitment to continuously create a safer and healthier work environment for all our employees.

Health and Safety – OHSAS 18001
We have attained the OHSAS 18001 certification – an internationally accepted standard that accredits the effectiveness of an organization's occupational health and safety management systems. This demonstrates our commitment to maintaining best practices in ensuring the safety and wellbeing of our employees. 

Quality Assurance – ISO 9001
We have attained the ISO 9001 certification – the international benchmark for quality management – for the Design and Build of our Audio Visual work. This recognizes our efforts to ensure customer satisfaction by providing quality products and services in all of our projects in a prompt and reliable manner. 

Engineering Certification


The unique requirements of designing and implementing AV systems require specialized training and knowledge. With vendor certification, we have the credibility and technical proficiency to design, install, maintain and troubleshoot various products and systems.

| Manufacturer | Certification |
| --- | --- |
| AMX | System Design & Control |
| Audinate | Dante Level 1 & 2 |
| Autodesk | Revit MEP Level 1 & 2 |
| BiAmp | Tesira Server IO / VoIP / Vocia / Lux / Tesira / Forte |
| Cisco | Certified Network Associate (CCNA) |
| Cisco | Video Infrastructure Implementation (VII) |
| Crestron | DM Certified Design 4K / Engineer 4K / NVX Application / NVX Network |
| Crestron | CTI Fusion / P101 / P201 |
| EASE | EASE |
| Extron | Certified Authorized Programmer |
| Harman | Certified Audio Programming Associate |
| Polycom | Realpresence Platform Implement Configure and Troubleshoot RPIIT202 |
| QSC | Q-Sys Level 1 & 2 |

Government Trade Certification


We have been certified by both the Building Construction Authority of Singapore (BCA) and Expenditure and Procurement Policies Unit (EPPU) to have met the required financial commitments in order to bid for government projects.

BCA Registered
ME04 Grade L5 -Tendering Capacity of $13 million
SY05 Grade L4 -Tendering Capacity of $6.5 million

EPPU
EPU/AVP/10 Grade S10 – Tendering Capacity of more than $30 million
Our Strengths
In this field, what sets us apart is our attention to detail, our commitment to quality and our deep pool of technical expertise.
Strong Design Capabilities and Attention to Detail
A detailed design phase sets the stage for a successful project. We develop schematic diagrams to a very high level of detail in order to demonstrate the functionality of the proposed system and show how each component is connected. Our schematic diagrams indicate the pin levels, major components, sub components, cabling, input and output flow, as well as data outlet and power requirements.

This schematic narrative provides our customers with greater clarity on how the AV system will work. It also forms the foundation for feasibility testing and inspection at various stages of implementation both off-site and on-site. This ensures that the design can meet our customers' intended requirements.

Detailed Design Phase
High-Quality and Reliable Solutions
We take great pride in delivering quality at all stages of our projects. To achieve this, we have put in place several best practices. From having standard methods for wiring and labelling in the rack or cabinet, to carrying out off-site staging and commissioning, adopting these best practices ensures that we can provide a consistent and reliable level of service to our customers.
Off-site staging, where the equipment is pre-assembled at our premises for feasibility testing, ensures that any technical or delivery issues can be resolved before actual on-site implementation. It is this commitment to quality that enables us to minimize project delays and deliver each project on time.
Off-site Commissioning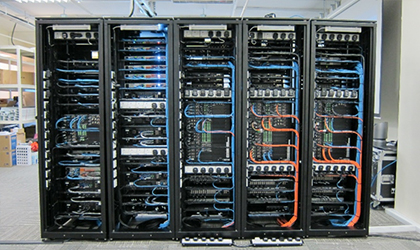 Cable Management
Deep Pool of Technical Expertise
Engineering Team

We have one of the largest technical teams in Singapore's AV industry, with more than 45 skilled technicians and engineers divided into 3 specialist areas – Video, Audio and Automation – to serve our customers.

Our technical team undergoes rigorous classroom and on-the-job training to equip them with the skills and competencies to deliver projects of any size and capacity. Internally, we rank our specialists from Levels 1 to 4 according to their breadth and depth of skills, with Level 4 being the highest for those with vast experience and leadership skills. Our broad and deep technical skills have enabled us to successfully deliver projects of the utmost complexity as well as implement wide range of vertical solutions.

Our highly-accomplished project management team has the extensive experience to manage and deliver wide-scale and large-value projects, ranging from S$3 million to S$30 million. We have implemented big-value projects for high-profile customers including the Workforce Development Authority, Google, Apple, Sengkang Hospital and Marina Bay Sands.